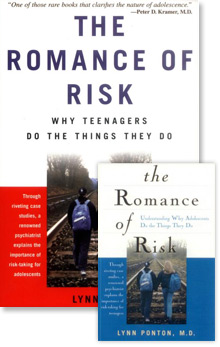 "A quick, suggestion-packed, truthful, and interesting read from a smart, pragmatic, well-trained, humane psychiatrist."
– Lenore Terr, MD
"Lynn Ponton has managed to become an expert on adolescence without losing her sympathy for risk and rebellion. She is able to bring out the best in distraught teenagers and their distraught parents. The Romance of Risk is one of those rare books that clarifies the nature of adolescence."
– Peter D. Kramer, MD author of Listening to Prozac and Should You Leave?
"A book brimming with humanity, good psychological stories, and a refreshingly pragmatic approach to teenage nose-piercings, runaways, sexual experimentations, and physically dangerous behaviors."
– Lenore Terr, MD
"the best news that teenagers have had lately."
– Publisher's weekly
"A wise, compassionate portrait of teenagers today by a gifted physician who admires their courage and integrity, understands their terrible messes they get into, and, ultimately, helps them grow."
– Judith Wallerstein, author of Second Chances and The Good Marriage
"A valuable contribution to understanding adolescents who take risks. It will encourage rather than dishearten most parents."
– Jean Shinoda Bolen, author of Close to the Bone
"Lynn Ponton takes the risk of unveiling to us 15 adolescents in all their physically and behaviorally risky glory. She paints vivid portraits and then openly and honestly gives us strategies for changing those pictures."
– Lenore Terr, MD
Epilogue: To Risk Is to Grow
Adolescents take risks as a way of developing and defining themselves. They do this by taking on new challenges in areas that often understand very little about, engaging in behaviors with results that range from devastating to extremely positive. Risk-taking is the major tool that adolescents use to shape their identities. Both directly and indirectly, risk-taking affects all aspects of development during this important period of life – physical, social, psychological, sexual and cultural.
For many young people like Jill, risk-taking is powerfully attractive, offering a romance that their "boring" lives do not have. For Jill and others like her, risky behavior is imbued with aspects of heroism, adventure, and mystery. It is only much later that adolescents notice the not-so-romantic aspects of this behavior and become aware of the long-term consequences and their own responsibilities.
It is not only romance that attracts adolescents to risk-taking, however. Adolescents are sometimes drawn to take dangerous risks because they're following the examples of others. Peers provide the most obvious model to emulate; popular culture and the media are also influential. But parents and other adults also play a role, whether passive or active. Adults model how to take both healthy and unhealthy risks. Many parents would like to believe that biology, peers, and culture are the dominant influences on their child's risk-taking, failing to recognize the important role they play themselves. That point is highlighted by Jenny's parents, who failed to see the impact of their own marijuana smoking on their daughter's behavior.
Parents and other adults are more than role models, though. As many parents discover when they are forced to pick up the pieces after a teen has participated in some dangerous risk-taking, sometimes it takes bearing legal responsibility for the actions of a child before parents realize how much trouble their family is in. Parents need to find out about risk-taking before there are serious consequences. Adolescent risk behavior is not mysterious. Parents need to recognize that just as infants are bound to mature and one day start walking, adolescents are going to engage in risk-taking, an important, inevitable process through which they come to understand themselves and life. Parents need to understand that many behaviors can have either positive or negative consequences and begin talking openly with their teens about what they're doing in order to help them develop tools for risk assessment, including learning how to evaluate their own actions and anticipate and evaluate the consequences of those actions.
Parents also need to encourage positive risk-taking, seeking our and/or supporting opportunities for their teenagers to take on challenges in open and nondangerous settings. They may have to develop these opportunities if they do not find them ready-made. Evan's parents provided challenging situations for their son and called on family members to encourage his participation in various projects, and his father made a commitment to spend more one-on-one time with Evan. Ariel's mother Elena, a single parent, planned travel and other activities that she and Ariel were able to participate in together. Jill's parents were able to recognize their daughter's creative interests and talents and showed their support for her artistic endeavors and identity by facilitating her early graduation from high school and enrollment in a secondary fine arts program.
Perhaps most important, parents need to recognize the warning signs of dangerous risk-taking. Tumultuous upset accompanied by dangerous risk-taking is not a normal part of the teen years. Parents should be on the lookout for problems and obtain or provide help for their teens when they need it. All of the parents in this book were given warning signs that their child was developing an unhealthy pattern of behavior as a result of some conflict or upset. For example, Jill withdrew into her room and started using drugs before she ran away. Ariel got into fights that she seemed to have little perspective on before she put herself in life-threatening situations with others. Hannah developed odd eating behaviors, slowly restricting her food intake before her life became endangered. Joe had a couple of beers every now and then before he became addicted to alcohol. This book tells the stories of many parents who missed initial warning signs but who, once they saw their children were in trouble, took action. They learned about adolescent risk-taking; they looked at their own behaviors as well as those of their children; and they obtained help for their children and themselves. They show us that parents need not sit by and watch, filled with fear and impatience, when adolescents are in trouble.
A better understanding of risk-taking provides a better understanding of adolescence itself. Risk-taking must be placed in a developmental framework in order to see it for the vital tool that it is. The many complex developmental tasks of adolescence include: separation and individuation, developing a sense of oneself as a distinct person, separate from family members and others; identity formation; exploration of the biological, sexual, psychological, social, and cultural aspects of identity; learning how to develop close relationships with others; gaining control of one's impulses; and learning how to take responsibility for one's actions.
Risk-taking is one of the primary tools that adolescents use to accomplish these developmental tasks, which serve, in turn, to improve adolescents' risk-taking skills. Risk-taking is not completely explained by any one theoretical perspective, although theory may provide a partial understanding. For example, psychoanalytic thinking helps us understand how risk-taking behavior can enact or reenact psychological themes, traumatic experiences, or conflicts, as we saw with Ariel. It also helps us understand risk-taking as part of an adolescent's healthy struggle to separate from his or her parents.
Family systems theory offers a partial answer by suggesting that an adolescent's risky behavior may serve a specific function in a family. Joe became another "adult" out of necessity when his parents were hardly ever home, and he began hosting the afternoon parties to meet some of his own needs. Jenny carried in her heavy backpack the weight of her parents' divorce, while both of them chose to use drugs and their relationship with their daughter as sources of comfort rather than deal with their own feelings about the divorce and adjust to their own roles.
When parents can't or don't facilitate the adolescent developmental task of separation, their children will find ways to manage it alone. Maura's self-cutting revealed her anger toward her father and an identification with him, but she also used it to define herself as separate from him because he wasn't letting that process happen naturally. Eva's mother and Zoe's mother also had trouble letting their daughters separate and grow up. As adolescents are drive to take risks in the vital process of their own development, they do so both in the context of family and independently; it is important for parents to hear the truth in their adolescent's claim, "This is about me, not you."
Illnesses defined in part by biological factors, such as depression, eating disorders, and substance abuse, also interfere with an adolescent's ability to assess and take risks. A depression like Ariel's can intensify an underlying unhealthy pattern of risk-taking or promote a restriction of healthy risk-taking, as Hannah's eating disorder inhibited her sports activities. A serious addiction to drugs or alcohol affects both positive and negative risk-taking, as demonstrated by Joe's tale. Parents must also understand that it is crucial to get help for a teen struggling with mental illness or substance abuse so that his or her difficulties are not compounded by the consequences of dangerous or restricted risk-taking.
Another important biological factor is the timing of an adolescent's physical changes. For decades, around the world, the onset of puberty has been occurring earlier and earlier. For girls especially many of the physical changes of puberty occur before they even reach their teen years. This shift affects not only their appearance but also how they feel about themselves, and how the culture treats them. The trend toward earlier sexual activity may be closely linked to this biological shift. It is also important to remember that for many teens the changes they are undergoing are out of sync; they may be ready for sex physically but not emotionally.
Culture also plays an important role in how adolescents take risks. With their wide access to media, they see vivid demonstrations of all kinds of risk-taking right in their living rooms and bedrooms. Some of the risks they are exposed to in this way are dangerous for anyone; many others may be dangerous depending on an adolescent's level of maturity, emotional stability, physical development, family situation, school situation, and so forth. A risk that may be positive for one teen may be negative for another, and vice versa. Risk-taking needs to be tailored to the individual adolescent.
In addition, our culture has in one very real way guaranteed that teens remain dependent while simultaneously commanding them, through the media, to behave like adults (and not always sensible adults at that). As fewer and fewer teens and their families can afford college education, and as increasing numbers of teens graduate or leave high school in no way prepared to face the academic challenges of college, more and more of them are living with their parents in a kind of "holding" status while they wait for the limited number of available jobs. They have more time on their hands and will find their own challenges if their parents and the culture do not provide them.
Social factors continue to be important. As ever, teens look to their peers as they define themselves independently of their parents. It is crucial, however, for parents to appreciate how important they continue to be in their older children's lives, what they can contribute to their adolescents' continuing development, and how to remain actively, appropriately involved.
One Step Further: Promoting Youth Advocacy
As a society, we cannot ask our children to become more responsible if we, in turn, shirk our responsibility to expend energy and money on our young people. Recent societal emphasis on "family values" puts a tremendous burden on an overworked system – the family unit – by demanding that it take responsibility for many problems that are social rather than individual (e.g., unemployment, lack of adequate funding for education, and day care). But the importance of individual and personal values is lost when the responsibility for this activity is placed solely on families that are often overburdened and underassisted. Will's story illustrates the need for both society – in legislation and policy – and individuals to take an interest in and responsibility for today's adolescents.
For adolescents who do live within a family structure, whether traditional or nontraditional, responsibility can be learned from a family member who teaches by example. My own interest in this area began on long walks with my father through desolate Chicago streets where he showed me more than twenty boardinghouses in which he lived as a teenager; he never forgot what it was like to be an adolescent without a home or parents. He showed many of the characteristics of "resilient" children, including a belief in himself and the important presence of strong mentors who played an active part in his life. It was on those walks with my father that I learned how small the difference was between teens without homes and the suburban teenager I was. Being able to identify with adolescents who are struggling has been a terrific aid in my work, but this is only the first part of the story. The second part involves taking an active role, either by educating today's youth or by learning about and advocating for their needs. This, too, was a message in the conversations with my father: individuals can and do make a powerful difference in the lives of young people. His life was filled with children and adolescents he mentored. He also advocated for them, individually and as a group.
My father was remarkable in this way not only among the men in my family but among the other fathers in our neighborhood. He often assisted teenagers from other families with work on high school projects. And if there was a neighborhood crisis, such as a brush fire one summer weekend, he was the parent who was called by all the kids and who organized them into a well-supervised, effective fire-fighting team when the fire department itself was delayed. I remember his calm in the midst of the turmoil, as well as how constructive and complimentary he was with each young person who participated in the effort. After the fire was safely put out, he held a post-mortem with the kids and the fire department so that everyone could learn from the experience. One of the kids, clearly hungry for both the challenge and the supervision, stated that not only had he learned a lot from my father during the fire, but that my father had made him feel that he personally could make a difference.
Watching an adult interact with and advocate for youth serves as a powerful example to young people. It reaffirms their value, increases their self-confidence, and sets an example that encourages them to become adults who do not forget their own teenage struggles and who "give back." Tragically, youth advocacy has fallen out of fashion. Even child and adolescent psychiatrists are unlikely to know or mention child advocates such as Jane Addams, the founder of Hull House, a remarkable program for orphaned youth begun over a century ago; or Edward Zigler, a modern advocate at Yale University who was instrumental in the development of the contemporary Head Start programs.
Part of the problem is that today's youth advocates are not visible. How could this be changed? In my own conversations with Dr. Zigler, he makes the point that this country that this country has not had a White House council on issues related to children and adolescents for two decades. This tradition, spearheaded by Eleanor Roosevelt, helped to focus the nation's efforts in this area, but it was lost to us in 1970s and 1980s. Whether a consequence of such neglect or not, the fact remains that the dollars spent on programs for adolescents today are severely limited. Hillary Rodham Clinton's book, It Takes a Village, highlights the community needs of children, yet like other books on children, the specific needs of adolescents are rarely mentioned. In many ways adolescents challenge the community more directly. More than younger children, they are often outside the home interacting with others in ways that have greater potential for positive or negative consequences.
Advocacy for youth has to be taught. It is a complex package of skills that includes an interest in and ability to identify with youth, education about the problems facing young people and about what would make a difference, and a strong commitment to fight for individual adolescents and, on a larger scale, for the entire age group.
Parenting adolescents also requires special skills, which can be learned. Understanding adolescent risk-taking is one of the most important lessons. Recognizing that it is a complex process, not just hormones playing themselves out, is a first step. Perhaps equally important is an ability is an ability to examine your own risk-taking, or lack thereof, and share what you learn with teenagers. Risk-taking characterizes adolescence, but it continues to play an important role throughout life. Parents need to talk with their teens about risk-taking, helping them to acquire knowledge from the process and to identify when they're stuck in an unhealthy or even dangerous pattern. If a teen is stuck, as the stories in this book show, it really is never too late to help.
It is vital for parents to remember that adolescents have to take risks. In the end, parents must promote opportunities for their adolescents to undertake positive challenges, not simply as an alternative to more dangerous risks but because of their intrinsic value in contributing to the development of healthy, confident adults.